Paying homage
(Poet's title: Huldigung)
Part of Kosegarten (putative cycle) 
Huldigung
Ganz verloren, ganz versunken
In dein Anschaun, Lieblingin,
Wonnebebend, liebetrunken,
Schwingt zu dir der Geist sich hin.
Nichts vermag ich zu beginnen,
Nichts zu denken, dichten, sinnen,
Nichts ist, was das Herz mir füllt,
Huldin, als dein holdes Bild!
Süße, Reine, Makellose,
Edle, Teure, Treffliche,
Ungeschminkte rote Rose,
Unversehrte Lilie,
Anmutreiche Anemone,
Aller Schönen Preis und Krone,
Weißt du auch, Gebieterin,
Wie ich ganz dein eigen bin?
Huldin, dir hab ich ergeben
Seel' und Leib und Herz und Sinn.
Ohne dich wär Tod das Leben
Und mit dir der Tod Gewinn.
Süßer ist es, dir zu frohnen,
Als zu tragen goldne Kronen,
Edler, deinem Dienst sich weihn,
Als des Erdballs Herrscher sein.
Wenn ich, Traute, dich erblicke,
Wird die Seele mir so klar.
Wenn ich dir die Hände drücke,
Zuckt' s in mir so wunderbar.
Des Olympos hohe Zecher
Labt nicht so der Nektarbecher,
Der Ambrosia Genuss,
Als mich labt dein keuscher Kuss.
Mich umbeben süße Schauer,
Kraft und Atem mangelt mir,
Freude schüttelt mich und Trauer,
Bange Scheu und Glutbegier,
Wann ich mich dem Heiligtume
Deines Kelches, edle Blume,
Zitternd nahe, Nelkenduft
Mich umweht und Ambraluft.
Könnt' ich, ach, dich nur umschmiegen
Einen langen Sommertag,
Dir am offnen Busen liegen,
Lauschend deines Herzens Schlag!
Könnt' ich, ach, dich nur umflechten
In den längsten Winternächten,
Eingewiegt in seidnen Traum
Auf des Busens Schwanenflaum.
Könnt' ich, ach, mein ganzes Leben
Einzig dir, Ellwina, weihn!
Dürft' ich handeln, dulden, streben
Für dich und mit dir allein!
Wahrlich, dann wär Dasein Wonne!
Und wann meines Lebens Sonne
Unterging in Finsternis,
O so wär auch Tod mir süß.
Sollte Dunkel Den umweben,
Dem Ellwinens Auge glänzt?
Sollt' ich vor der Urne beben,
Die Ellwina weinend kränzt?
Sollt' ich nicht, du kühle Kammer,
In dir schlummern sonder Jammer?
Horch! Ellwina, wehmutvoll
Seufzt: mein Liebling, schlummre wohl!
Und wie bald ist nicht verschwunden
Jenes Schlummers kurze Nacht!
Horch, es jubelt: Überwunden!
Schau, der ew´ge Tag erwacht!
Dann du Teure, dann du Eine,
Bist du ganz und ewig Meine!
Trennung ist das Los der Zeit!
Ewig einigt Ewigkeit!
Paying homage
Totally lost, totally absorbed
In contemplating you, beloved,
Quaking with delight, drunk with love,
My spirit leaps towards you.
I am unable to begin anything,
Nor can I think, write poetry or muse on anything.
There is nothing that can fill my heart,
Gracious one, other than your beauteous image.
Sweet, pure, spotless,
Noble, valuable, splendid,
Unadorned red rose,
Undamaged lily,
Graceful anemone,
Prize and crown of all beauty,
Do you also know, my lady,
How totally I belong to you?
Gracious one, to you I have surrendered
Soul and body and heart and mind.
Without you life would be death,
And with you death would be profit.
It is sweeter to be in your retinue
Than to wear a golden crown.
It is nobler to commit yourself to your service
Than to be the master of the whole world.
Friend, when I behold you
My soul becomes so clear;
When I press your hands,
A wonderful tremor goes through me.
A drinker high up on Olympus
Is not as refreshed by the beaker of nectar
Or the consumption of ambrosia
As I am by your chaste kiss.
Sweet shuddering trembles around me,
I feel a lack of strength and breath.
Joy shakes me, and sadness,
Uneasy shyness and burning desire,
When I am close to the sanctuary
Of your chalice, noble flowers,
Quivering nearby, the scent of carnations
Surrounds me, and a smell of ambergris.
Oh, if only I could cuddle up around you
One long summer's day,
Lie on your open breast
Listening to the beating of your heart!
Oh, if only I could twine myself around you
On the longest nights of winter,
Lulled into a silken dream,
On the swan-down of your breast.
Oh, if only I could offer my whole life,
Consecrating it only to you, Ellwina!
If only I were allowed to act, suffer, struggle
For you and with you alone!
Truly then existence would be a delight!
And if the sun of my life
Were to descend into darkness,
O, even death would be sweet to me then.
Should darkness envelop him
Whom Ellwina's eyes shine on?
Should I tremble before the urn
Which a tearful Ellwina surrounds with a wreath?
Should I not, you cool chamber,
Sleep in you without complaint?
Listen, Elwina, full of sadness
Is sighing: my darling, sleep well!
And how quickly will it not disappear
The short night of that particular sleep!
Listen, there is rejoicing: defeated!
Look, the eternal day has awoken!
Then you dear one, then you, the only one,
You will be mine completely and for ever!
Separation is a feature of time!
Eternity unites eternally!
All translations into English that appear on this website, unless otherwise stated, are by Malcolm Wren. You are free to use them on condition that you acknowledge Malcolm Wren as the translator and schubertsong.uk as the source. Unless otherwise stated, the comments and essays that appear after the texts and translations are by Malcolm Wren and are © Copyright.
☙
People can have some strange fantasies. Here we have someone who goes all of a quiver when Ellwina gives him a chaste kiss and affirms that he is happier being in her service than he would be if he had power over the whole world. He knows that they cannot be fully united. However, this does not stop him speculating about what it would be like to entwine himself around her on a long summer night or to imagine lying on her breast (as smooth and white as if it were made from the feathers of baby swans) listening to her heartbeat. Or the even greater bliss of having to suffer and die for her, of seeing her grieving for him, moping over his ashes (wreath in hand or on the urn).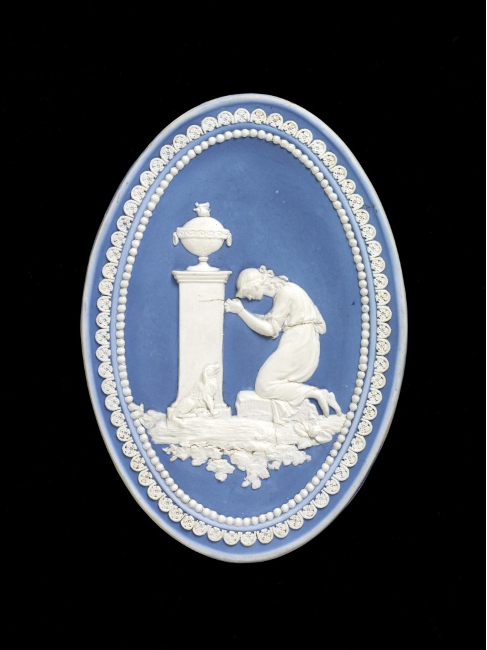 There is, to put it mildly, a tension between the assertions that he is already blissfully happy simply thinking about her and his fantasies about what cannot be. He has already surrendered himself to her completely, he says. Looking at her makes his soul clear, he says. No god on Olympus was as refreshed by a beaker of nectar as he is by her chaste kiss, he says. However, the reference to the beaker reveals an unconscious association. The beaker or goblet is a sort of chalice (so the Olympian partaking of ambrosia and nectar was a sort of classical Holy Communion). He associates it (and her) with a sanctuary ('Wenn ich mich dem Heiligtume / Deines Kelche . . nahe', 'when I approach the sanctuary of your chalice'). Her chalice involves all of the flowers he has already associated her with (roses, lilies, anemones) along with the scent of carnations, since the word 'Kelch' (chalice, goblet) can also mean 'calyx' (the sepals surrounding flower buds). Unspoken, for obvious reasons, are all of the other associations: the opening up and opening out of the inaccessible holy of holies where he may not enter.
☙
Original Spelling and note on the text

Huldigung

Ganz1 verloren, ganz versunken
In dein Anschaun, Lieblinginn,
Wonnebebend, liebetrunken,
Schwingt zu dir der Geist sich hin.
Nichts vermag ich zu beginnen,
Nichts zu denken, dichten, sinnen.
Nichts ist, was das Herz mir füllt,
Huldinn, als dein holdes Bild.

Süsse, Reine, Makellose,
Edle, Theure, Treffliche,
Ungeschminkte rothe Rose,
Unversehrte Lilie,
Anmuthreiche Anemone,
Aller Schönen Preis und Krone,
Weißt du auch, Gebieterinn,
Wie ich ganz dein eigen bin?

Huldinn, dir hab' ich ergeben
Seel' und Leib und Herz und Sinn.
Ohne dich wär Tod das Leben,
Und mit dir der Tod Gewinn.
Süsser ist es, dir zu frohnen,
Als zu tragen goldne Kronen.
Edler, deinem Dienst sich weihn,
Als des Erdballs Herrscher seyn.
 
Wenn ich, Traute, dich erblicke,
Wird die Seele mir so klar.
Wenn ich dir die Hände drücke,
Zuckt' s in mir so wunderbar.
Des Olympos hohe Zecher
Labt nicht so der Nektarbecher
Der Ambrosia Genuß,
Als mich labt dein keuscher Kuß.
 
Mich umbeben süsse Schauer,
Kraft und Athem mangelt mir,
Freude schüttelt mich und Trauer,
Bange Scheu und Gluthbegier,
Wann ich mich dem Heiligthume
Deines Kelches, edle Blume,
Zitternd nahe, Nelkenduft
Mich umweht und Ambraluft.

Könnt' ich, ach, dich nur umschmiegen
Einen langen Sommertag,
Dir am offnen Busen liegen,
Lauschend deines Herzens Schlag!
Könnt' ich, ach, dich nur umflechten
In den längsten Winternächten,
Eingewiegt in seidnen Traum,
Auf des Busens Schwanenflaum.
 
Könnt' ich, ach, mein ganzes Leben
Einzig dir, Ellwina, weihn!
Dürft' ich handeln, dulden, streben,
Für dich und mit dir allein!
Wahrlich dann wär' Daseyn Wonne!
Und wann meines Lebens Sonne
Unterging´ in Finsterniß,
O, so wär' auch Tod mir süß.
 
Sollte Dunkel Den umweben
Dem Ellwinens Auge glänzt?
Sollt' ich vor der Urne beben,
Die Ellwina weinend kränzt?
Sollt' ich nicht, du kühle Kammer,
In dir schlummern sonder Jammer?
Horch! Ellwina, wehmuthvoll
Seufzt: mein Liebling, schlummre wohl!

Und wie bald ist nicht verschwunden
Jenes Schlummers kurze Nacht!
Horch, es jubelt: Ueberwunden!
Schau, der ewge Tag erwacht!
Dann du Theure, dann du Eine,
Bist du ganz und ewig Meine!
Trennung ist das Loos der Zeit!
Ewig einigt Ewigkeit!

1  Schubert changed 'Gar' (Quite) to 'Ganz' (Totally)
Confirmed by Peter Rastl with L.T.Kosegarten's Poesieen, Neueste Auflage, Dritter Band, Berlin 1803, pages 15-18. This is the source used by Schubert. Kosegarten's poem is different in later editions and has the title "Minnesang"
To see an early edition of the text, go to page 15 [19 von 274] here: http://digital.onb.ac.at/OnbViewer/viewer.faces?doc=ABO_%2BZ184217108