Song of the spirits over the waters
(Poet's title: Gesang der Geister über den Wassern)
Set by Schubert:
D 484 (fragment)

[September 1816]

D 538 for quartet (2 Tenors, 2 Basses)

[March 1817]

D 705 sketch for quartet (2 Tenors, 2 Basses)

[December 1820]

D 714 for octet (4 Tenors, 4 Basses)

[February 1821]
Gesang der Geister über den Wassern
Des Menschen Seele
Gleicht dem Wasser.
Vom Himmel kommt es,
Zum Himmel steigt es,
Und wieder nieder
Zur Erde muss es,
Ewig wechselnd.
Strömt von der hohen
Steilen Felswand
Der reine Strahl,
Dann stäubt er lieblich
In Wolkenwellen
Zum glatten Fels,
Und leicht empfangen,
Wallt er verschleiernd,
Leisrauschend
Zur Tiefe nieder.
Ragen Klippen
Dem Sturz entgegen,
Schäumt er unmutig
Stufenweise
Zum Abgrund.
Im flachen Beete
Schleicht er das Wiesental hin,
Und in dem glatten See
Weiden ihr Antlitz
Alle Gestirne.
Wind ist der Welle
Lieblicher Buhler,
Wind mischt vom Grund aus
Schäumende Wogen.
Seele des Menschen,
Wie gleichst du dem Wasser,
Schicksal des Menschen,
Wie gleichst du dem Wind!
Song of the spirits over the waters
The human soul
Is similar to water:
It comes from the heavens,
It rises to the heavens
And back down
To earth it has to come,
Eternally changing.
Streaming from the high
Steep wall of the cliff
Is a pure beam,
Then it lovingly sprays out
In clouds of waves
Onto the smooth rocks,
And it is no sooner welcomed than
It surges and veils itself,
Rumbling gently,
And descends to the depths.
When rocks loom up
It plunges against them,
It angrily foams
Step by step
To the abyss.
In its flat bed
It slithers through the valley of meadows,
And in the smooth lake,
Feasting their eyes on their reflection,
Are all the constellations.
Wind is the waves'
Beloved partner;
The wind goes down and gets mixed with
The foaming waves.
Human soul,
How similar you are to the water!
Human fate,
How similar you are to the wind!
All translations into English that appear on this website, unless otherwise stated, are by Malcolm Wren. You are free to use them on condition that you acknowledge Malcolm Wren as the translator and schubertsong.uk as the source. Unless otherwise stated, the comments and essays that appear after the texts and translations are by Malcolm Wren and are © Copyright.
☙
South of Interlaken in Switzerland, up the Lauterbrunnen Valley on the way towards the High Alps, a cascade makes a vertical drop of 300 metres: the Staubbach Falls. The resistant rocks over which the water drops turn the waterfall into spray, giving the impression that the water wants to return to where it has come from.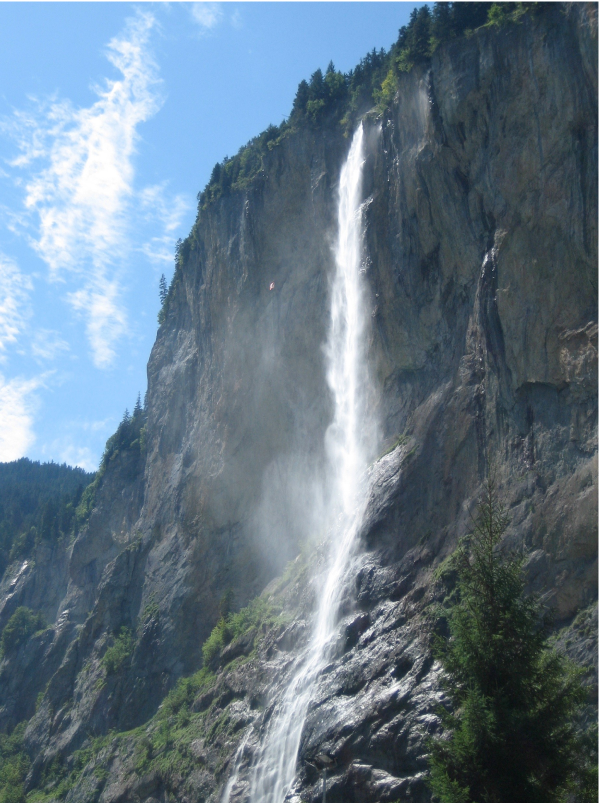 Johann Wolfgang Goethe, visiting the falls on 9th and 10th October 1779 in the company of his patron and tutee, Duke Karl August (of Saxony-Weimar-Eisenach), could have responded to the phenomenon in a number of ways. He could have concentrated on the scientific elements of the phenomenon, such as the hydrodynamics or the metereology (being so high on the mountains allows the curious to notice the connections between the weather and the land very clearly). One of his responsibilities at Weimar was to supervise the mines, which led him to develop a detailed knowledge of rocks and topography, so his walks around (below and above) the falls could have concentrated on geology. He was later to write on optics and colour theory, and any visit to a waterfall is bound to stimulate interest in rainbows and the optical effects of water droplets. We do not know if Goethe talked about all of these matters with the Duke in his tutorial capacity, nor do we know if he sketched what he saw (he was to take up art much more seriously later in his career) but we do know that he wrote this poem, 'Gesang der Geister über den Wasser', on the spot (or rather in the Lauterbrunnen vicarage, where they were staying) and that he immediately sent a copy of the poem to Charlotte von Stein back in Weimar.
The waterfall clearly gave itself to metaphor immediately. The basic shape of a long narrow column of water is even reflected in the form on the page. The short lines (each with only two stressed syllables) mean that the poem gives an impression of the height of the cliff. The reader is encouraged to plunge down and at the bottom of the text we return to the images at the beginning, just as the water itself is said to fall from heaven down to earth and then climb back up again. It is not just a top / down experience; we are taken into the drama of swirling and foaming, and we are encouraged to reflect on the fact that a waterfall is not a simple system. The water droplets do not all simply fall off the cliff and flow gently into a river and thence into a calm lake; much of the water churns and splashes back up. We are often not sure what is waterfall, what is mist and what is cloud.
It is this dynamic force that makes the water similar to the human soul. Standing or walking around at the bottom of the falls, the poet gets the impression that the water is falling directly from the sky. The scudding clouds add to the impression of vitality and force. The rising and spreading spray parallels the attempt of the poet to lift the reader's spirit as he pins the experience down in verse. The sensitive human soul is simultaneously pulled down to earth and strives to climb back to heaven. Just as the falling river is always there but never the same, so the human soul is 'eternally changing'.
Even the water droplets that do not immediately vaporise and return to the clouds eventually get back to the sky, though they have to go on an even more dramatic journey to get there. They come up against resistant rocks, they tumble through clefts down into an abyss, they flow out into a meandering river and they enter a calm lake. Yet there is no final rest. The smooth surface of the lake is ruffled and then churned up as the wind rises. Water and air join up again as foam and the cycle continues.
So it is with human beings. We have early intimations that we belong on a higher plane, we are conscious that we are falling away from what we should and could be. Some of us might manage to break free, but for most there is a headlong plunge into turmoil. Or we might feel that the course of our life is taking us nowhere; we are simply meandering aimlessly, feeling flat (like the flat bed of the twisting river). We might even feel becalmed, and all our inner drive appears to stop. Just as the water droplets that were so distinct and significant at the waterfall lose their identity when they enter the lake, we will probably find at some stage in our life that we lose our distinct character as we become part of a larger group. Merged into conventional society, in our conformity we feel that we have lost our sparkle and the striving we once had for higher things.
Yet this is an illusion, as the poem points out. When the waters are at their stillest, when they are at their least distinct, in fact when the waters are just 'water', they serve as a mirror in which the stars take delight in their appearance. The water has not been cut off from its origin in the heavens after all. The light and sparkle of the stars comes down to help the cycle continue. Similarly, when we feel that our own inner journey has come to an end or we suspect that all our plans for 'higher things' have come to nothing, we can still open ourselves up to the sparks and glimmers of another dimension.
In any case, the calm cannot last. Winds will come, waves will form. The air and the water will merge and the foaming swirling cycle will continue on its course, back up to heaven, down again, eternally changing, striving and longing for ever.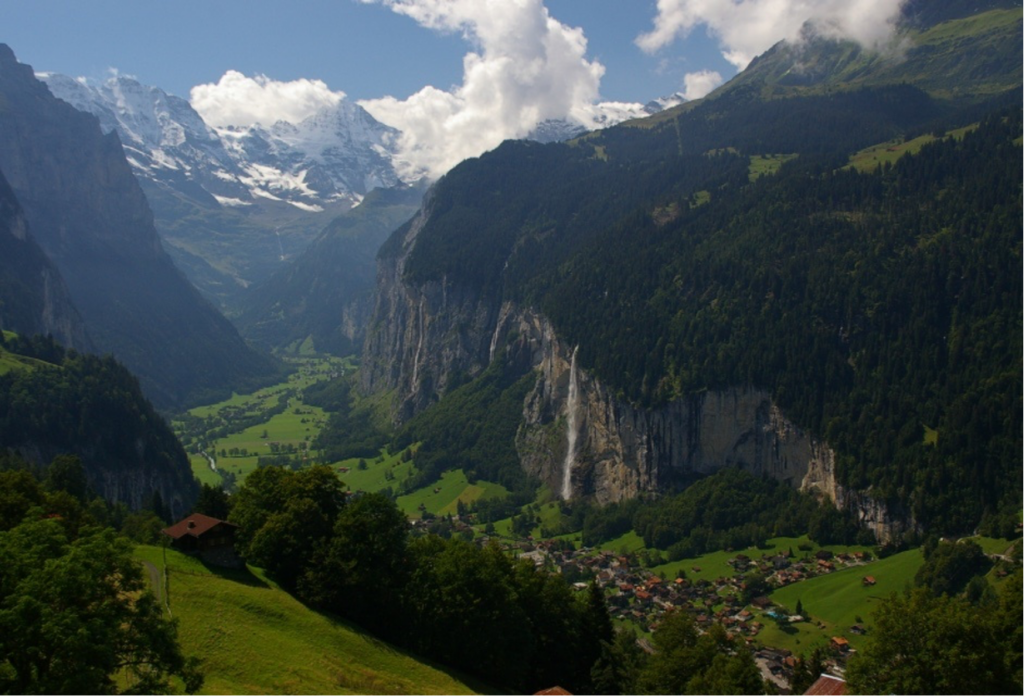 ☙
Original Spelling

Gesang der Geister über den Wassern

Des Menschen Seele 
Gleicht dem Wasser: 
Vom Himmel kommt es, 
Zum Himmel steigt es, 
Und wieder nieder 
Zur Erde muß es, 
Ewig wechselnd.  

Strömt von der hohen, 
Steilen Felswand 
Der reine Strahl, 
Dann stäubt er lieblich 
In Wolkenwellen 
Zum glatten Fels, 
Und leicht empfangen, 
Wallt er verschleiernd, 
Leisrauschend, 
Zur Tiefe nieder.  

Ragen Klippen 
Dem Sturz' entgegen, 
Schäumt er unmuthig 
Stufenweise 
Zum Abgrund.  

Im flachen Bette 
Schleicht er das Wiesenthal hin, 
Und in dem glatten See 
Weiden ihr Antlitz 
Alle Gestirne.   

Wind ist der Welle 
Lieblicher Buhler; 
Wind mischt vom Grund aus 
Schäumende Wogen.  

Seele des Menschen, 
Wie gleichst du dem Wasser! 
Schicksal des Menschen, 
Wie gleichst du dem Wind!

Confirmed by Peter Rastl with Schubert's source, Goethe's Werke. Zweyter Band. Original-Ausgabe. Wien, 1816. Bey Chr. Kaulfuß und C. Armbruster. Stuttgart. In der J. G. Cotta'schen Buchhandlung. Gedruckt bey Anton Strauß pages 65-66; with Goethe's Werke. Vollständige Ausgabe letzter Hand. Zweyter Band. Stuttgart und Tübingen, in der J.G.Cotta'schen Buchhandlung. 1827, pages 58-59; and with Goethe's Schriften, Achter Band, Leipzig, bey Georg Joachim Göschen, 1789, pages 187-188.
To see an early edition of the text go to page 65 [73 von 350] here http://digital.onb.ac.at/OnbViewer/viewer.faces?doc=ABO_%2BZ223421905