Harvest song
(Poet's title: Erntelied)
Set by Schubert:
D 434
Schubert did not set the stanza in italics

[May 1816]
Erntelied
Sicheln schallen,
Ähren fallen
Unter Sichelschall;
Auf den Mädchenhüten
Zittern blaue Blüten;
Freud ist überall!
Sicheln klingen,
Mädchen singen,
Unter Sichelklang;
Bis, vom Mond beschimmert,
Rings die Stoppel flimmert,
Tönt der Erntesang.
Alles springet,
Alles singet,
Was nur lallen kann;
Bei dem Erntemahle
Isst aus einer Schale
Knecht und Bauersmann.
Hans und Michel
Schärft die Sichel,
Pfeift ein Lied dazu,
Mähet; dann beginnen
Schnell die Binderinnen,
Binden sonder Ruh.
Jeder scherzet,
Jeder herzet
Dann sein Liebchen fhein.
Nach geleerten Kannen
Ziehen sie von dannen,
Singen und juchein!
Harvest song
Sickles echo;
Ears of corn fall
At the sound of the sickle;
On the girls' hats
Blue flowers flutter;
Joy is everywhere!
Sickles ring out;
Girls sing
At the ringing of the sickles;
Until, illuminated by the moon,
The stubble shimmers and
The harvest song is heard.
Everything jumps,
Everything sings
That can utter a sound.
At the harvest feast
People eat from a single dish –
Squire and farmer together.
Hans and Michel
Sharpen their sickles and
Whistle a song at the same time.
They mow; then work begins
Quickly as the women start binding,
They bind [the sheaves] without a break.
Everyone tells jokes,
Everyone hugs
Their lover then.
Having emptied their mugs
They withdraw from there
Singing and rejoicing!
All translations into English that appear on this website, unless otherwise stated, are by Malcolm Wren. You are free to use them on condition that you acknowledge Malcolm Wren as the translator and schubertsong.uk as the source. Unless otherwise stated, the comments and essays that appear after the texts and translations are by Malcolm Wren and are © Copyright.
☙
There is a long tradition of portraying the activity of harvesting in western art. In the 12th Century Gothic Cathedrals of northern France images of the different labours of the months of the year were often linked with the symbols of the signs of the zodiac as a way of presenting ideas about time and the circularity of human life, which is then interrupted by the linear narrative of the incarnation and redemption from time offered by Christ.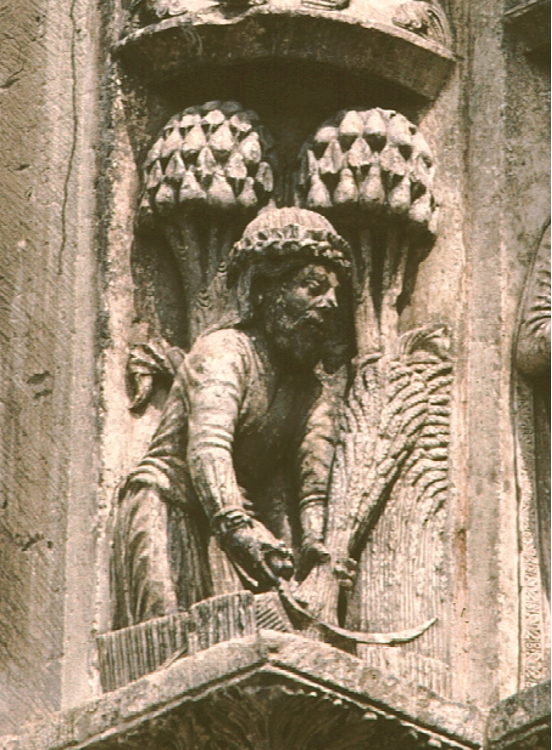 As the renaissance of the 12th Century gave way to further renaissances and the Renaissance itself [1] the theme of the labours of the months allowed artists to pay more detailed attention to the secular world and the place of human beings in their environment. Even in such a sylised form as a stained glass window artists in southern England were able to portray an image of harvesting which includes most of the details from Hölty's text which still strike us as realistic: a glistening sickle (we can almost hear the swishing sound as it approaches the corn), ears ready to fall, women's hats (with an extra cloth falling over the neck to protect it from the sun), stubble all around, sheaves being carefully bound.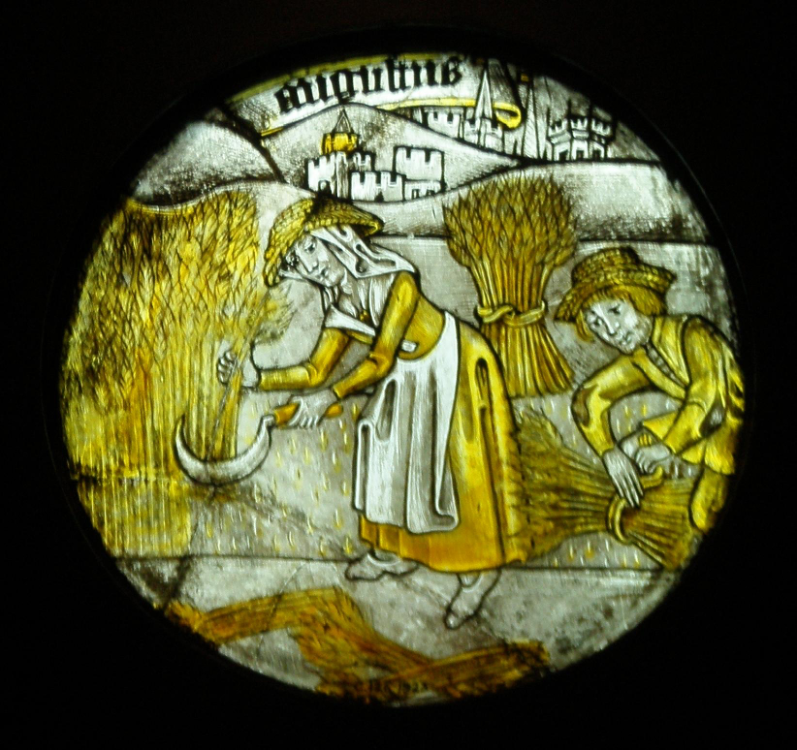 By the mid-16th Century Brueghel was able to produce what seems to be an astonishingly realistic (and fully secular) image of a wheat field being harvested that includes the details from the second part of Hölty's poem: different people eating together, jokes being told, mugs being emptied (though because it presents a break in the middle of the day rather than the fun as night falls we do not see the dancing and hugging).
Hölty's poem therefore comes at the end of a long tradition of paying careful attention to the details of the work involved at this crucial point in the agricultural year. As such it is an anti-pastoral. These are not happy lazy shepherds and shepherdesses who can afford to relax and dally since they live in an arcadian environment where everything is available for the picking. The pleasure and joy that is experienced at harvest-time is hard-earned. Back breaking work and tormenting anxiety (about the weather, if nothing else) have made this day possible.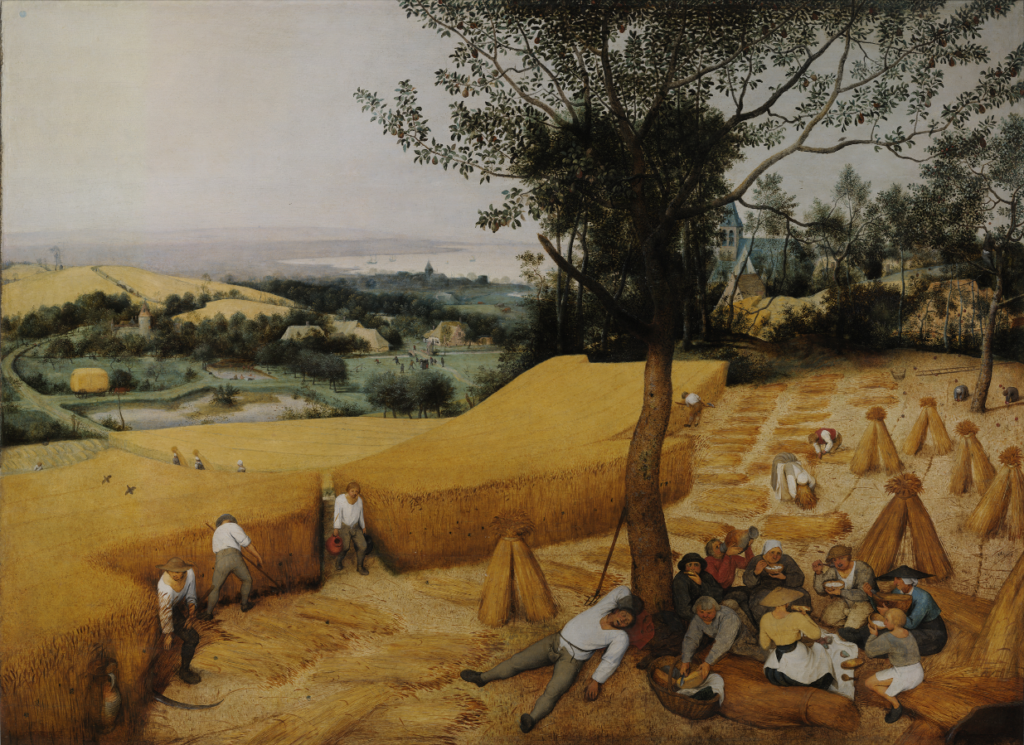 ---
[1] Erwin Panofsky, Renaissance and Renasances in Western Art 1962
---
☙
Original Spelling and notes on the text

Erntelied

Sicheln schallen; 
Ähren fallen 
Unter Sichelschall; 
Auf den Mädchenhüten 
Zittern blaue Blüthen; 
Freud' ist überall!  

Sicheln klingen; 
Mädchen singen, 
Unter Sichelklang; 
Bis, vom Mond beschimmert, 
Rings die Stoppel flimmert, 
Tönt der Erntesang.   

Alles springet, 
Alles singet, 
Was nur lallen kann. 
Bei dem Erntemahle 
Ißt aus einer Schale 
Knecht und Bauersmann.   

Hans und Michel 
Schärft die Sichel, 
Pfeift ein Lied dazu, 
Mähet; dann beginnen 
Schnell die Binderinnen, 
Binden sonder Ruh. 

Jeder scherzet, 
Jeder herzet 
Dann sein Liebelein. 
Nach geleerten Kannen 
Ziehen  sie von dannen, 
Singen und juchheyn!

1  Schubert changed 'Gehen' (They go) to 'Ziehen' (They withdraw)
Confirmed by Peter Rastl with Schubert's source, Gedichte von L. H. Ch. Hölty. Neu besorgt und vermehrt von Johann Heinrich Voß. Wien, 1815. Bey Chr. Kaulfuß und C. Armbruster. Gedruckt bey Anton Strauß. Meisterwerke deutscher Dichter und Prosaisten. Drittes Bändchen. pages 171-172; with Gedichte von Ludewig Heinrich Christoph Hölty. Besorgt durch seine Freunde Friederich Leopold Grafen zu Stolberg und Johann Heinrich Voß. Carlsruhe, bey Christian Gottlieb Schmieder, 1784, pages 28-29; and with Ludwig Christoph Heinrich Hölty's Sämtliche Werke kritisch und chronologisch herausgegeben von Wilhelm Michael, Erster Band, Weimar, Gesellschaft der Bibliophilen, 1914, pages 145-146.
To see an early edition of the text, go to page 171 [249 von 300] here: http://digital.onb.ac.at/OnbViewer/viewer.faces?doc=ABO_%2BZ15769170X