☙
One of the strangest mysteries of Western cultural history is the continuing centrality of altars in Christianity after the abandonment of their original function: sacrifice. What were originally stone slabs or structures fitted to killing beasts or birds survived as the locus and focus of prayer and devotion. The change came about at the same time as (but was clearly not caused by) the destruction of the Temple in Jerusalem (70 CE) and the consequent abandonment of sacrifice as a ritual within Judaism.
One standard explanation for the continuing use of altars in the Christian tradition is that they allowed worshippers to reflect on and participate in the ultimate sacrifice of Christ on the cross. The Eucharistic meal could now function as a sharing of the body and blood that Christ had offered on behalf of fallen humanity. We can see the change in function of the altar in such images as Giotto's 'Presentation of Christ in the Temple' (c. 1320). Here Mary and Joseph have brought two turtle doves ready to be sacrificed on the altar (following the prescriptions of the Torah) but in the event Simeon takes hold of Jesus and is presented as holding the baby over the altar as the actual offering (Luke 2: 21-35).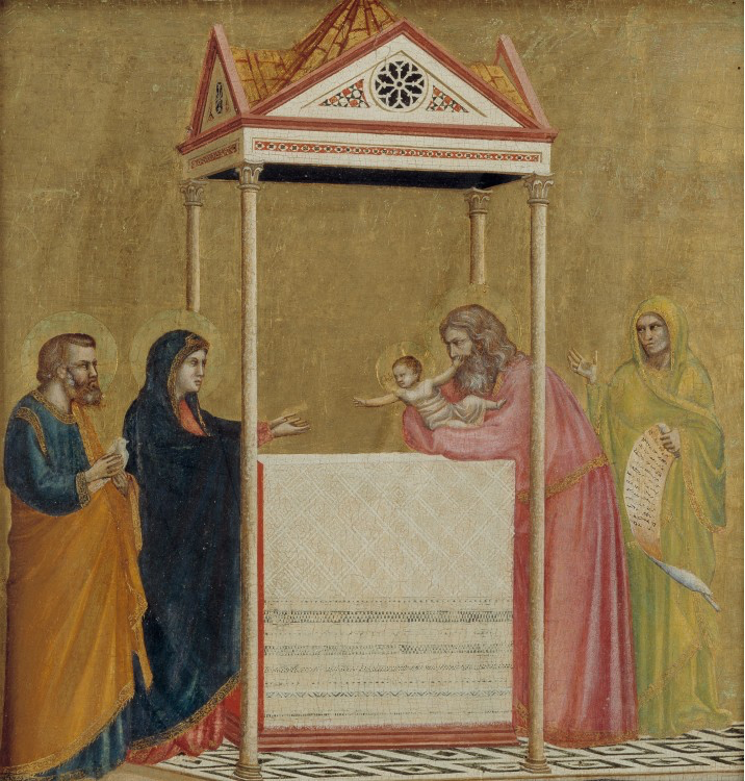 Only two of the poems that refer to altars that Schubert set to music present the altar as a site of sacrifice; in the others it is primarily a focus of devotion. The pair of turtle doves who are given the last word in Schlegel's 'Lebens-Melodien' (D 395) are devoted to Venus the goddess of love. If they cannot remain together in true devotion they say that they are happy to be offered as a sacrifice on her altar:
Venus Wagen ziehen   
Schnäbelnd wir im Fliehen,  
Unsre blauen Schwingen  
Sämt der Sonne Gold.  
O wie es fächelt, 
Wenn sie uns lächelt!   
Leichtes Gelingen,   
Lieblicher Sold!  
 
Wende denn die Stürme,  
Schöne Göttin! schirme  
Bei bescheidner Freude  
Deiner Tauben Paar!  
Lass uns beisammen!  
Oder in Flammen  
Opfre uns beide   
Deinem Altar!

Pulling the chariot of Venus
We bill and coo as we fly;
Our blue wings
Collect the sun's gold.
   Oh how it blows
   When they smile on us!
   Easy success,
   Lovely reward!

So turn away the storms,
Beautiful goddess! protect
With a modest joy
Your pair of doves!
   Let us stay together!
   Or in flames
   Sacrifice us both
   On your altar!

In Mayrhofer's 'Uraniens Flucht' (D 554) another Venus (Aphrodite Urania) has been badly treated on earth (mainly as a result of the institution of marriage). Jupiter / Zeus prepares to destroy the world in his resulting fury, but then he notices the pious devotion of a couple (genders unspecified) sacrificing at Urania's altar:
Verwünschte Brut, herrscht Zevs mit wilder Stimme, 
Dem schnellsten Untergang sei sie geweiht.
Die Wolkenburg erbebt vor seinem Grimme, 
Und Luft und Meer und Land erzittern weit, 

Er reißt den Blitz gewaltsam aus den Fängen 
Des Adlers, überm hohen Haupte schwenkt 
Die Lohe er, die Erde zu versengen, 
Die seinen Liebling unerhört gekränkt.  

Er schreitet vorwärts, um sie zu verderben, 
Es dräut der rote Blitz, noch mehr sein Blick,
Die bange Welt bereitet sich zu sterben - 
Es sinkt der Rächerarm, er tritt zurück. 

Und heißt Uranien hinab zu schauen. 
Sie sieht in weiter Fern ein liebend Paar, 
Auf einer grünen, stromumflossnen Auen, 
Ihr Bildnis ziert den ländlichen Altar; 

Vor dem die beiden opfernd niederknieen, 
Die Himmlische ersehnend, die entflohn.
Und wie ein mächtig Meer von Harmonieen  
Umwogt die Göttin ihres Flehens Ton, 

Ihr dunkles Auge füllet eine Träne, 
Der Schmerz der Liebenden hat sie erreicht, 
Ihr Unmut wird wie eines Bogens Sehne, 
Vom feuchten Morgentaue, nun erweicht.  

"Accursed brood," commands Zeus with a savage voice,
"I shall decree the quickest possible annihilation for them!"
The castle in the clouds rises up in response to his fury
And the air, sea and land quake in the distance.

He violently snatches the lightning out of the talons of
The eagle; high above his lofty head he brandishes
The burning flames, intending to scorch the Earth,
Which had outrageously hurt his dearest one.

He steps forward in order to destroy it,
The red lightning is threatening, but the look in his eye is even more so.
The anxious world prepares to die - 
Then the arm of the avenger sinks, he steps back,

And calls Urania to look down.
In the far distance she sees a loving couple,
On a green meadow with a stream flowing around it,
The rustic altar is adorned with an image of her,

The two of them are kneeling in front of it offering a sacrifice,
Yearning for the divine being who has fled;
And like a powerful sea of harmonies
The sound of their supplications wells up around the goddess.

A tear fills her dark eye,
The pain of the lovers has reached her;
Her displeasure changes, like a bowstring
Touched by the moist morning dew, she now softens.


Schiller's strange poem about the four ages of the earth ('Die vier Weltalter', D 391) traces both the changes and the continuities between the ancient world and the culture of Christianity. Despite the new religion, the goddess Venus continued to be venerated in the form of the Madonna and Minnesingers still sang in praise of the goddess of Love:
Und einen heiligen, keuschen Altar 
Bewahrten sich stille die Musen, 
Es lebte, was edel und sittlich war, 
In der Frauen züchtigem Busen, 
Die Flamme des Liedes entbrannte neu 
An der schönen Minne und Liebestreu.   

Drum soll auch ein ewiges zartes Band 
Die Frauen, die Sänger umflechten, 
Sie wirken und weben Hand in Hand 
Den Gürtel des Schönen und Rechten. 
Gesang und Liebe, in schönem Verein,
Sie erhalten dem Leben den Jugendschein.

And a holy, chaste altar
Was quietly devoted to the Muses.
What was noble and moral lived on
In the innocent breasts of women.
The flame of song flared anew
In praise of beautiful Love and loving devotion.

Therefore an eternal, tender bond should also
Be woven around women and singers,
They work and weave hand in hand
Making the belt of Beauty of Justice.
Song and Love in a beautiful union,
They maintain the youthful appearance of life.


Klopstock's pietistic 'Das große Hallelujah' (D 442) echoes Isaiah chapter 6 and the image of the altar in the Jerusalem Temple, linking believers to the very throne of God:
Ehre sei dem Hocherhabnen, dem Ersten, dem Vater der Schöpfung, 
Dem unsre Psalmen stammeln, 
Obgleich der wunderbare Er 
Unaussprechlich, und undenkbar ist.  

Eine Flamme von dem Altar an dem Thron 
Ist in unsre Seele geströmt! 
Wir freun uns Himmelsfreuden, 
Dass wir sind, und über ihn erstaunen können.

Glory to the highly exalted one, the first, the father of creation,
For whom we stammer our Psalms,
Even though the amazing 'He'
Is himself inexpressible and inconceivable.

A flame from the altar by the throne
Has flowed into our soul!
We enjoy heavenly joys at the thought
That we exist and that we can be astonished by Him!

In the year that king Uzziah died I saw also the Lord sitting upon a throne, high and lifted up, and his train filled the temple. Above it stood the seraphims: each one had six wings; with twain he covered his face, and with twain he covered his feet, and with twain he did fly. And one cried unto another, and said, Holy, holy, holy, is the LORD of hosts: the whole earth is full of his glory. And the posts of the door moved at the voice of him that cried, and the house was filled with smoke. Then said I, Woe is me! for I am undone; because I am a man of unclean lips, and I dwell in the midst of a people of unclean lips: for mine eyes have seen the King, the LORD of hosts. Then flew one of the seraphims unto me, having a live coal in his hand, which he had taken with the tongs from off the altar: And he laid it upon my mouth, and said, Lo, this hath touched thy lips; and thine iniquity is taken away, and thy sin purged.

Isaiah 6: 1-7 (KJV)
In two of the texts that Schubert set to music, though, a character prays at an altar but fails to encounter the divine. In Simon's 'Das Bild' (D 155) the poet attempts to think about the Seraphim on the altar but can only envisage the face of the girl he loves:
Ein Mädchen ist's, das früh und spät
   Mir vor der Seele schwebet,
Ein Mädchen, wie es steht und geht
   Aus Himmelsreiz gewebet.
Ich seh's, wenn in mein Fenster mild
   Der junge Morgen blinket,
Ich seh's, wenn, lieblich wie das Bild,
   Der Abendstern mir winket.

Mir folgt's, ein treuer Weggenoss
   Zur Ruh und ins Getümmel:
Ich fänd es in der Erde Schoß,
   Ich fänd es selbst im Himmel.
Es schwebt vor mir in Feld und Wald,
   Prangt überm Blumenbeete,
Und glänzt in Seraphims Gestalt
   Am Altar, wo ich bete.

It is a girl, who, early and late,
Hovers before my soul,
A girl, as if she could stand up and walk,
Woven out of the allure of heaven.
I see her when, gently through my window
The young morning flahes in,
I see her, when lovingly, like the image,
The evening star signals to me.

She follows me, a true companion on the way,
When it is calm and when it is crowded,
I would find her in the Earth's womb,
I would even find her in heaven.
She hovers before me in the fields and forests,
Resplendent over the flower beds,
And she glows in the form of one of the Seraphim
At the altar where I pray.

In 'Szene aus Faust' (D 126), an extract from Goethe's 'Faust Part One', the penitent Gretchen attends a requiem service at the Cathedral, only to be harangued by an 'evil spirit' who reminds her what has changed. In her innocent youth she used to appear with genuine devotion in front of this altar, prayer-book in hand, but now her affair with Faust has led to the death of her mother, her baby and her brother.
Wie anders, Gretchen, war dir's,
 Als du noch voll Unschuld
 Hier zum Altar trat'st,
 Aus dem vergriffnen Büchelchen
 Gebete lalltest,
 Halb Kinderspiele,
 Halb Gott im Herzen!
 Gretchen! 
 Wo steht dein Kopf?
 In deinem Herzen
 Welche Missetat?

How different it used to be for you, Gretchen,
When you were still full of innocence
And you approached the altar over here
Holding on to your little book and
Mumbled prayers out of it:
Half childish game,
Half holding God in your heart!
Gretchen! 
What are you thinking of?
In your heart, 
What crime is that?

The altar functions as a sort of mirror where we encounter our innermost concerns, but it always retains something of its original associations. Gretchen has sacrificed herself for love just as much as those turtle doves did when they died on Venus's altar.
☙
Descendant of: 
RELIGION
Texts with this theme: