The doppelgänger
(Poet's title: Der Doppelgänger)
Part of 13 Lieder nach Gedichten von Rellstab und Heine ("Schwanengesang"), D 957 
Der Doppelgänger
Still ist die Nacht, es ruhen die Gassen,
In diesem Hause wohnte mein Schatz,
Sie hat schon längst die Stadt verlassen,
Doch steht noch das Haus auf demselben Platz.
Da steht auch ein Mensch und starrt in die Höhe
Und ringt die Hände vor Schmerzensgewalt;
Mir graust es, wenn ich sein Antlitz sehe,
Der Mond zeigt mir meine eigne Gestalt.
Du Doppelgänger, du bleicher Geselle,
Was äffst du nach mein Liebesleid,
Das mich gequält auf dieser Stelle
So manche Nacht, in alter Zeit?
The doppelgänger
The night is quiet, the alleyways are at rest,
My treasure used to live in this house;
She left the town long ago,
But the house is still standing in the same place.
There is a man standing there too and he is staring up high,
And he is wringing his hands as a result of overwhelming pain;
I feel terrified when I see his face, –
The moon shows me my own form.
You doppelgänger, you pale guy!
Why are you aping my love agony,
The pain that tormented me on this spot,
So many nights in the old days?
All translations into English that appear on this website, unless otherwise stated, are by Malcolm Wren. You are free to use them on condition that you acknowledge Malcolm Wren as the translator and schubertsong.uk as the source. Unless otherwise stated, the comments and essays that appear after the texts and translations are by Malcolm Wren and are © Copyright.
☙
     The Earth:
		Ere Babylon was dust,
      The Magus Zoroaster, my dead child,
      Met his own image walking in the garden.
      That apparition, sole of men, he saw.
      For know there are two worlds of life and death:
      One that which thou beholdest; but the other
      Is underneath the grave, where do inhabit 
      The shadows of all forms that think and live,
      Till death unite them and they part no more

P. B. Shelley, Prometheus Unbound  Act I Scene 1 1820

Many people raised on literature written in English rather than German assume that the figure of the double, the doppelgänger, is necessarily connected with death, as in the above passage from Shelley. It might come as a surprise that the word Doppeltgänger in fact entered German literature in a light-hearted context and that the first recorded doppelgänger actually had the silly name Siebenkäs ('seven cheeses')[1]. As the German romantic writers took up the theme in the generation after Jean Paul, doubles served a number of purposes. At times they are connected with the ominous or the paranormal, but they are more usually used to explore questions about identity and personality. The focus is hardly ever on death.
Eager for imaginative evocations, for enchantments, allegories and clues to the nature of the subconscious parts of the mind, some of the German romantics almost inevitably seized upon the double as their predestined motif. It was one which fused the extremes of extravagant fantasy and the realistic observation of the mind, or psyche, most nearly to the taste of E. T. A. Hoffmann, for instance - the most universally read of the Phantasieromantiker, and doubtless their greatest story-teller - and which became as a result the romantic device par excellence. The Doppelgänger, or Doppeltgänger, as Hoffmann and the romantics called the double (after Jean Paul Richter's example) often implied a spiritual affinity linking the physically identical pairs of characters; the emphasis was in fact placed on the magical, occult, psychical or psychological qualities that run through the double's ambiguous nature.

Not only is Hoffmann's Doppelgänger the culminating feature of his literary cabinet of marvels, but it is even arguable that his Doppelgänger is the most suggestive form the double was ever able to achieve in the whole course of its development. Nevertheless, in the subsequent years of the nineteenth century, the double may be traced through a not uneventful career in the sinister, 'gas-lit' underworld of post-romantic fiction - the haunts of Poe, Stevenson, Maupassant and Dostoevsky. The twentieth century in its turn continues the story with the elaboration of the German expressionist drama, and neo-romantic allegory.

Ralph Tymms, Doubles in Literary Psychology Cambridge 1949 page 16

In book XI of his Autobiography, Goethe even recounts an episode when he encountered his own doppelgänger. He does not speculate about the nature of the phenomenon (even though he was perpetually curious about all questions connected with perception and reality). He simply states that the experience was comforting rather than ominous or uncanny.
Amid all this pressure and confusion I could not fail to see Frederica once more. Those were painful days, the memory of which has not remained with me. When I reached her my hand from my horse, the tears stood in her eyes, and I felt very uneasy. I now rode along the footpath towards Drusenheim, and here one of the most singular forebodings took possession of me. I saw, not with the eyes of the body, but with those of the mind, my own figure coming towards me, on horseback, and on the same road, attired in a dress which I had never worn;—it was pike-grey (hecht-grau) with somewhat of gold. As soon as I shook myself out of this dream, the figure had entirely disappeared. It is strange, however, that eight years afterwards, I found myself on the very road, to pay one more visit to Frederica, in the dress of which I had dreamed, and which I wore, not from choice, but by accident. However it may be with matters of this kind generally, this strange illusion in some measure calmed me at the moment of parting. The pain of quitting for ever the noble Alsace, with all that I had gained in it, was softened, and having at last escaped the excitement of a farewell, I found myself on a peaceful and quiet journey, pretty well recovered.

Goethe, Autobiography (Aus meinem Leben. Dichtung und Wahrheit) Book XI English translation by John Oxenford 1892

The anecdote refers to his time in Alsace in 1771, and was published in 1814 (in the third volume of Dichtung und Wahrheit).

In Heine's poem the doppelgänger is a figure from the past rather than the future, and consequently seems less portentous. Nevertheless, the speaker confesses that he feels terrified (or perhaps 'disturbed' might be better – 'mir graust es') when he realises that the figure outside the old house is his own double. What is shocking seems to be that although the girl has now moved on (literally and emotionally – she left long ago) he now sees that part of himself is still stuck in the past. Until now, he has suppressed that element of himself that is still agonising over his unrequited love. There is nothing paranormal or morbid about this fact, but it is no less distressing and shocking for that. He now has to acknowledge that the subconscious drives from the past are controlling his later behaviour and relationships. He is not who he thought he was. Will he ever move on?
---
[1] Jean Paul Friedrich Richter, Blumen-, Frucht- und Dornenstücke oder Ehestand, Tod und Hochzeit des Armenadvokaten F. St. Siebenkäs im Reichsmarktflecken Kuhschnappel Berlin 1796-7 http://www.zeno.org/Lesesaal/N/9781489556981?page=0
Jean Paul Friedrich Richter, Flower, Fruit and Thorn Pieces; or the Wedded Life, Death and Marriage of Firmian Stanislaus Siebenkaes, Parish Advocate in the Burgh of Kuhschnappel. (A genuine thorn piece) English translation by Alexander Ewing London 1897 https://archive.org/details/flowerfruitthorn00jeanuoft/page/n35/mode/2up
☙
Experience: I made friends with my doppelganger
We had never met – yet we looked almost identical and had similar life stories. Now we do poetry readings together in matching jumpers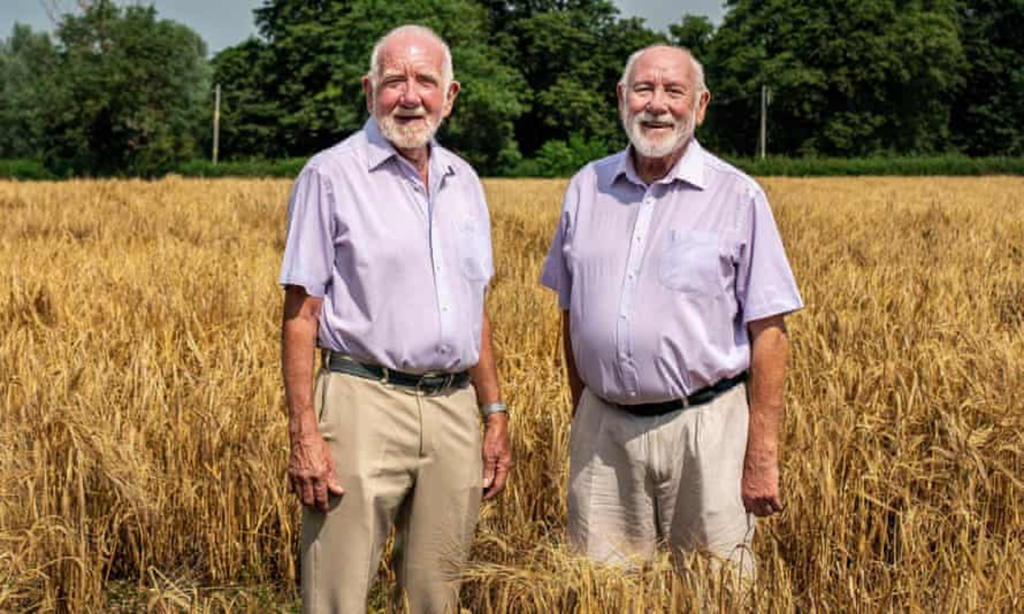 The Guardian

Fri 20 Aug 2021 10.00 BST

My wife, Marion, and I moved to Braintree in 2013 to be near our daughter and grandchildren, and I was struck by how friendly some of the locals were. Strangers would often wave as I passed them in the street. Some of them would also say, "Hello, John!" My name's Neil, but I let it pass.

On one occasion we were in a cafe when a man came over and said, "You're John Jemison, aren't you?"
"I'm not," I said. "But who is he?" I didn't find out, nor did I discover what the man wanted with the mysterious John. He backed off, startled. "Oh," he said. "Well, never mind. You don't half look like him."

After that, Marion and I were forever half-prepared to run into my lookalike, but the eventual meeting happened unexpectedly. We signed up for a bus trip to London with the Friends of Braintree Museum, to see Magna Carta. As we settled into our seats, someone said, "Hello John!"
"Uh oh," I thought, "here we go again…" Then the voice said, "Hello, Mr Jemison!" I realised they weren't talking to me, but to a man in his 70s who was boarding the bus.

"Are you John Jemison?" I asked.
"I am," he replied. "What have I done now?" Like me, John was white-haired, bearded and bespectacled, but it was only when we left the bus and were able to speak properly that we realised how similar we looked. It wasn't just our appearance, either – the more we got to know each other, the more we found in common. We had both trained as teachers at the College of St Mark and St John in Chelsea, and had the same teachers and lecturers. After qualifying, we both initially became RE teachers. When we paid for coffee, we pulled out identical Co-op debit cards, and we even both had a son who played the didgeridoo. Although I had failed to spot John for the best part of two years, we lived only half a mile apart.

Close friends and family members agreed that we were easy to tell apart, but people less familiar with us continued to insist that we must be twins or brothers, or at least unknowingly related. We started to attract media interest and were invited on to a Channel 4 programme in which a geneticist used face-mapping techniques to determine who, out of seven sets of alleged doppelgangers, looked most alike. To our astonishment, we won, with a facial match of 90% – the kind of score identical twins might expect. We were also judged the closest match after close scrutiny from a panel of 100 strangers.

A DNA test gave startling results about our ancestral origins. A family historian used the results to plot our ethnic backgrounds and found that although we weren't directly related, our ancestral maps matched almost exactly. However, John, who had always thought he had a strong claim to Viking heritage, was pretty miffed to learn that I'm more Viking than he is. 

John and I are both fairly open, easygoing people who meet others readily, but I suspect that being so alike has helped fast-track our friendship. We rapidly assumed the sort of relationship you might see between people who have known each other for decades.
 When I visited his house for the first time, it was extraordinary to see his wedding photos. We both married in our early 20s, in the 1960s, but our resemblance seems to have been just as marked then as it is now. 

After John came to see me performing with a choral society (and was mistaken for me afterwards by another audience member), we developed a show of our own called Doppelgangers Read Poetry. We always wear matching outfits at our readings. We already owned matching sweaters and when John's started to get a bit tatty he bought two new ones: one for him, one for me.

We are very happy to have met, especially since our wives have become friends, too. The afternoons and evenings we spend together – whether just in each other's company or when we expound our "double vision" on life, the universe and everything – continue to be a great joy.

As told to Chris Broughton

https://www.theguardian.com/lifeandstyle/2021/aug/20/experience-i-made-friends-with-my-doppelganger
☙
Original Spelling and note on the text

Der Doppelgänger

Still ist die Nacht, es ruhen die Gassen,
In diesem Hause wohnte mein Schatz;
Sie hat schon längst die Stadt verlassen,
Doch steht noch das Haus auf demselben Platz.

Da steht auch ein Mensch und starrt in die Höhe,
Und ringt die Hände, vor Schmerzensgewalt;
Mir graust es, wenn ich sein Antlitz sehe, -
Der Mond zeigt mir meine eigne Gestalt.

Du Doppelgänger1! du bleicher Geselle!
Was äffst du nach mein Liebesleid,
Das mich gequält auf dieser Stelle,
So manche Nacht, in alter Zeit?


1  Schubert changed the spelling from Doppeltgänger to Doppelgänger

Confirmed by Peter Rastl with Schubert's source, Buch der Lieder von H. Heine. Hamburg bei Hoffmann und Campe. 1827, page 198; and with Reisebilder von H. Heine. Erster Theil. Hamburg, bey Hoffmann und Campe. 1826, page 24.
First published as number VI of Drei und dreißig Gedichte von H. Heine in Der Gesellschafter oder Blätter für Geist und Herz. Herausgegeben von F. W. Gubitz. Achter Jahrgang. Berlin, 1824. In der Maurerschen Buchhandlung. Freitag den 26. März. 49stes Blatt, page 243.
To see an early edition of the text, go to page 198 [204 von 384] here: http://digital.onb.ac.at/OnbViewer/viewer.faces?doc=ABO_%2BZ180399009