To Mr. Joseph Spaun, Tax Assessor in Linz
(Poet's title: Herrn Josef Spaun, Assessor in Linz)
Herrn Josef Spaun, Assessor in Linz
(Recitativo)
Und nimmer schreibst du?
Bleibest uns verloren,
Ein starr Verstummter, nun für ew'ge Zeit?
Vielleicht, weil neue Freunde du erkoren?
Wardst du Assessor denn am Tisch so breit,
Woran beim Aktenstoß seufzt Langeweile,
Um abzusterben aller Freudigkeit?
Doch nein, nur wir sind's, nur uns ward zu Teile
Dies Schweigen, dies Verstummen und Vergessen.
Armut und Not selbst an der kleinsten Zeile!
Für jeden bist du schriftkarg nicht gesessen;
Für manchen kamen Briefe angeflogen,
Und nach der Elle hast du sie gemessen;
Doch uns, Barbar, hast du dein Herz entzogen!
(Aria)
Schwingt euch kühn, zu bange Klagen,
Aus empörter Brust hervor,
Und von Melodien getragen,
Wagt euch an des Fernen Ohr!
Was er immer mag erwidern,
Dieses hier saget doch;
»Zwar vergessen, jenes Biedern
Denken wir in Liebe noch.«
To Mr. Joseph Spaun, Tax Assessor in Linz
(Recitative)
And are you never going to write?
Are you going to remain lost to us,
Somebody struck dumb, now and forever more?
Is it perhaps because you have chosen some new friends?
Have you become a tax assessor sitting behind such a large desk
With piles of files, sighing with boredom
So as to kill off any sense of joy?
But no, it's just us, it is just our fault
This silence, this refusal to speak and this forgetfulness.
Poverty and necessity themselves in the smallest of lines!
It isn't for everyone that you have sat there being so mean with your writing;
For quite a few people letters have flown off,
You have even measured them out by the yard;
But from us, barbarian, you have withdrawn your heart!
(Aria)
Turn into anxious laments as you soar up boldly
Out of our outraged breasts,
And carried by melodies
Dare to approach that distant ear!
Whatever answer he might give,
Say this clearly to him:
"Although we have been forgotten, he is a lad
Who we still think of with love."
All translations into English that appear on this website, unless otherwise stated, are by Malcolm Wren. You are free to use them on condition that you acknowledge Malcolm Wren as the translator and schubertsong.uk as the source. Unless otherwise stated, the comments and essays that appear after the texts and translations are by Malcolm Wren and are © Copyright.
☙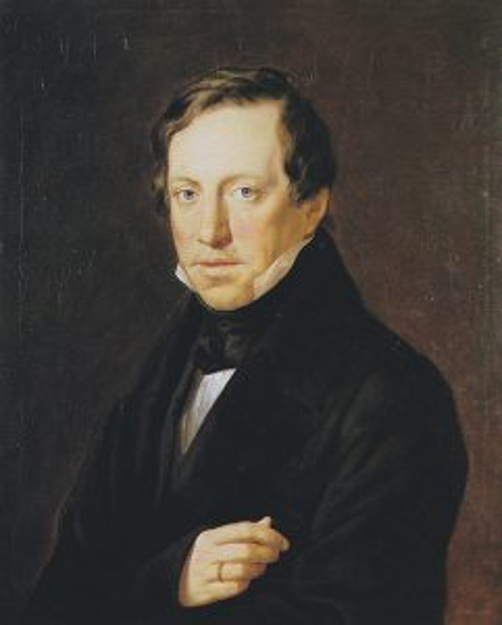 Josef Spaun (not yet Josef von Spaun) left Vienna to take up his new job in Linz (as Assessor to the Upper Austrian Excise Office) on 23rd September 1821. He had known Schubert since their school days together, and after studying Law in Vienna he had a 52 year long career in the civil service. Schubert wrote to him on 2nd November about his plans to write an opera with Franz von Schober, and Schober wrote his own letter on the back of Schubert's two days later, but there is no sign of any reply. This may be what precipitated the friends to ask Collin to write the spoof recitative and aria lamenting Spaun's silence. Since Schubert's letter of November had passed on the recent gossip about Barbaja taking over control of the Imperial Opera (and the consequent popularity of Rossini in Vienna) it can be assumed that Spaun would have got the joke.
In a letter from Spaun to Schober of 5th March 1822 (thus a few weeks after receiving the mock recitative and aria) he reports how much he is missing the evenings when he could hear new Schubert songs. "On the whole I am well content, only nothing can make me forget the happy, sociable hours I spent with you all, and which Schubert so often beautified; I fear they will never return so happily for me."
☙
Note: Schubert received the text of this humorous letter of complaint, which Matthäus von Collin sent to his cousin Josef von Spaun, in handwritten form. The text is documented as item no. 300 in Franz Schubert. Die Dokumente seines Lebens und Schaffens. Herausgegeben von Otto Erich Deutsch. Zweiter Band. Erste Hälfte. München und Leipzig 1914 bei Georg Müller, pages 119-120.